Our Service Staff
Billy DelaCruz - Service Manager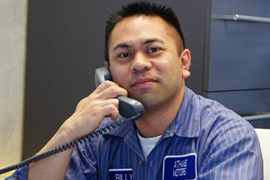 When he was young, Billy always enjoyed taking things apart and putting them back together. These were the seeds that would grow into his passion for cars and for making them run at their most optimal level.
Billy began his technician's career in 2000 at The Audi Exchange in Highland Park, Illinois where he spent his apprenticeship. He remained there until 2006. During those years, Billy realized that there were no non-dealership specialty shops in the area that could service owners in certain repairs and performance modifications. This got him and two friends thinking that they had a terrific opportunity to permanently fill this niche. So, Billy and his two partners formed Rennart, Inc. in 2006 - first in a small shop in Des Plaines, then to a larger space in Arlington Heights. There he honed his skills in both repair and after market enhancements.
Billy left Rennart to join Athans Motors in 2009. He is thrilled to put his knowledge, style and natural affinity to work within this amazing new service department. Billy likens the auto servicing process to that of a doctor. First there is the diagnosis. You must really listen to the owner and try to decipher what the ailment may be. Then you get down to thoroughly checking out the car and its systems to pinpoint the exact problem or problems. Once you identify that, there is the treatment or repair of the automobile and following is the continued maintenance. Billy credits much of his success to being able to figure out and fix issues at hand. Something you think comes naturally, but as he has seen, often doesn't.
Jim Letsos - Assistant Service Manager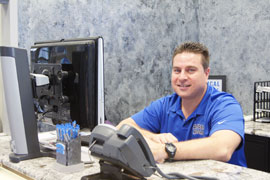 Jim began his long-standing career in the automotive business with the Penzoil Company in the mid 1980's while still in high school. He remained working for the company through his college years at Loyola University in Chicago where he studied Business/Personnel Management. Over his 21 years with Penzoil, he served as a multi-store manager for JLI - the Jiffy Lube International Division. The locations he oversaw were mainly located in the northern suburbs of Chicago. During his tenure, Penzoil would merge with Quaker State and was eventually purchased by Shell Oil Company in 2002.
In 2005, Jim moved on and became the manager at his brother's Phillips 66 Station which was a C-store, fuel station and car wash in Des Plaines. He remained there for the next eight years. In 2012, he briefly worked as a sales representative for Joseph Mullarkey Distributors - a Glenview-based beer and non-alcoholic beverage distribution company. In December of 2012, Jim joined the Athans Motors family and brought his knowledge and experience to the talented Service Department.
Like most everyone at Athans, Jim has a deep love of cars and is excited to begin this new leg of his professional journey. He appreciates the supportive and collaborative atmosphere at Athans and sees himself building a solid career there. In his words, he looks forward to growing as Athans grows.
Mike Newberger - Service Technician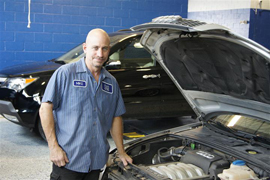 Mike brings over 20 years experience in servicing all types of automobiles to Athans Motors. Having worked on cars in high school, Mike jumped into the auto industry professionally in 1986 as a mechanic at Imperial Motors Jaguar in Wilmette, Illinois. He worked there for 10 years honing his skills even further. In order to broaden his expertise, Mike attended Denver Automotive & Diesel College in Denver, Colorado. After that, he entered the Marine Corps.
In 1997, Mike set out on his own and started his own business in Northbrook, Illinois. He serviced both foreign and domestic cars. Realizing that this was a huge undertaking, he decided to simplify and opted to join Golz Motors in Deerfield, Illinois where he specialized in European automobiles. He remained at Golz for nine years and came on board at Athans Motors in June of 2010. Mike is extremely focused on doing an excellent job on each and every automobile he services. He understands that satisfying both the customer and subsequently ownership is the key to great and continued success.
Robert Zander - Service Technician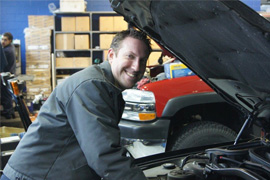 Rob brings over 15 years of experience to the team at Athans Motors. Directly out of Tech School, Rob began working for an independent mechanic's shop in Libertyville that services Porsches. In 1997, he joined the Porsche Exchange in Highland Park and continued honing his skills. In 1999, he opted to switch over to the Audi Exchange and familiarize himself with the mechanics of that make and its various models. Rob spent the next eight plus years working with Audi dealerships in both Westmont and Orland Park.
Rob feels fortunate to have been recruited by Athans. He likes the close knit atmosphere and the fact that every associate genuinely has each other's and the dealership's best interest in mind. He is also very excited to expand his skills even further by learning more about the broad variety of automobiles that Athans services. He looks forward to a long and rewarding career at Athans Motors.
Bernard Sison - Service Technician
Bernard began his career in the automotive industry by attending Lincoln Technical Trade School. While in school, he also worked at Firestone Auto Care in Skokie, IL where he learned the basics such as oil changes, tire rotation, etc. He graduated Lincoln Tech with an Automotive Service Excellence (ASE) Certification.
In 2001, Bernard worked for Auto Plus, an independent body shop in Chicago. It was there, that he began doing body work on cars. In 2002, he joined Grossinger Volvo in Lincolnwood where he went from Apprentice to Journeyman, honing his service skills and keeping up with his Certifications. Grossinger was eventually sold and became a Hyundai dealership. Bernard worked there until he followed one of his managers to Family Hyundai in Tinley Park where he remained until 2010.
Bernard was brought into Athans Motors in fall of 2011. He finds that Athans has put an entirely different spin on the car dealership industry. Unlike other Franchise Dealerships, everyone at Athans works as a team. Bernard enjoys diagnosing and treating all kinds of vehicles and is fascinated by the different technologies amongst makes and models. He looks forward to a long, successful career at Athans.
Todd Chavin - Service Technician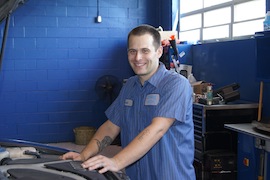 Todd graduated high school in 2000 and attended Oakton Community College where he studied Fire Science to become a fireman. As he was always mechanically inclined, he took a part time job at Dale & Jack's Service Station in Evanston where he was an Apprentice Technician. In 2004, he continued his training as an EMT and also graduated from Universal Technical Institute (UTI) in Glendale Heights, having been Certified in Automotive Technology. He began working full-time at Dale & Jack's where he moved from Technician to Manager.
In 2006, Todd worked for Central Park Service Station in Evanston as a Technician and Service Writer. He moved to the Breaking Point in Northbrook in 2008 to 2010, serving as Service Manager, Technician and Manager of the shop's gas station. Later in 2010, he worked at Horcher's Service Station in Wheeling as Lead Technician. There he became more familiarized with diesel work to add to his repertoire.
Todd came to Athans Motors in June of 2013. He is extremely happy to be at a dealership that is impeccably clean and cheery and where the people are upbeat and supportive. Todd envisions himself staying at Athans for a very long time.
Matt Langmaack - Service Technician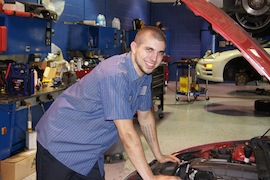 Matt began working as a Sales Associate at a Jewel in Bartlett in 2010 when he was still in high school. Because of his love of cars, he also took a part time job changing tires at Discount Tire in Bloomingdale in 2011. In 2012, he took a position with Bartlett Tire, a full-service repair shop, where he performed oil changes. Later that year, Matt moved to Wheeling Auto Center in Arlington Heights. There, he did oil changes, but he also began to expand his mechanical abilities and assisted his coworkers with repair work.
In 2013, Matt began attending the College of DuPage to study Automotive Technologies. He also hopes to begin Automotive Service Excellence (ASE) Certification with an initial concentration in breaks and steering & suspension. In his spare time, Matt has always enjoyed taking on car projects with his friends. Often times buying beat up automobiles, fixing them up in his garage and selling them for a profit. He started working at Athans Motors in June of 2012 and is totally pleased to have joined such a talented service crew.
Roberto Orejel - Detail Manager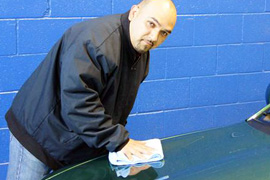 Roberto began his career in the automotive industry at The Exchange in Highland Park, Illinois. Over the years, he has learned the intricacies of detailing cars in order to get them looking their very best. It is an extremely in depth, time consuming and meticulous process. Roberto knows that an excellent finish on a vehicle leads to a great presentation, which can make all the difference in how customers perceive that automobile.
Roberto is thrilled to join Athans Motors and to bring his solid expertise to the Service Department. He notes that Athans has acquired an outstanding team - one that he is proud to be a part of. He looks forward to servicing customers and their cars to the best of his ability.
David Malagon - Car Delivery Specialist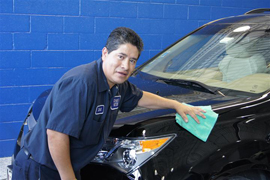 Like every one of his Athans Motors counterparts, David has always had an interest in cars. In the mid nineties he began working for a body shop in Northbrook, Illinois. There, he served as a porter, moving cars and getting them ready for pick up. In 2004, David began working as a porter at Porsche in Highland Park, Illinois. He joined Athans Motors in June of 2010. Having known some of the other associates at Athans from his years at Porsche, he was thrilled to be asked to be part of this very special team. He looks forward to providing customers with outstanding service.
Josh Balingit - Detail Specialist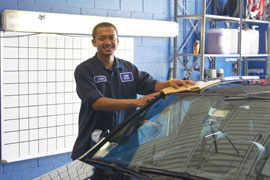 Josh is fairly new to the automotive industry having recently entered the work force in 2010 at a Just Tires in Morton Grove. There he performed oil changes and tire rotation and changes. He joined Athans Motors in the summer of 2012 as a Porter and is responsible for prepping cars by washing, vacuuming and detailing them. He also assists in the transport of cars to and from other locations.
Josh finds Athans to be a very upbeat dealership where everybody works together and genuinely enjoys their jobs. He finds his coworkers to be good people who are always supportive and helpful. Josh hopes to enter the medical field sometime in the future.